It's an exciting time right now at Dwight Baptist Church as spring is almost here! We are overwhelmed that God has sent us Dr. Keith Wrenn, to serve as our interim pastor. We are looking forward to a new era in our ministry to our members and community, and most importantly, a ministry that reflects Jesus and is pleasing to God. Here is where you'll find faith, love, and community. As we move into this time, we invite you to join us along the way. God is doing great things! We want to be there beside you as your family, a family of imperfect believers serving a perfect God. Join us at Dwight Baptist Church!
---
---
520 N 29th Street, Gadsden, AL. This is within the Alabama City community (West Gadsden). The church is off of West Meighan Blvd. next to Elliot Community Center.
---
Sunday
9:30 A.M - Small Groups
10:45 A.M - Worship Service
Wednesday
6:00 P.M - Kids
6:00 P.M - Youth
6:00 P.M - Adult Prayer Meeting
7:00 P.M - Choir Practice
---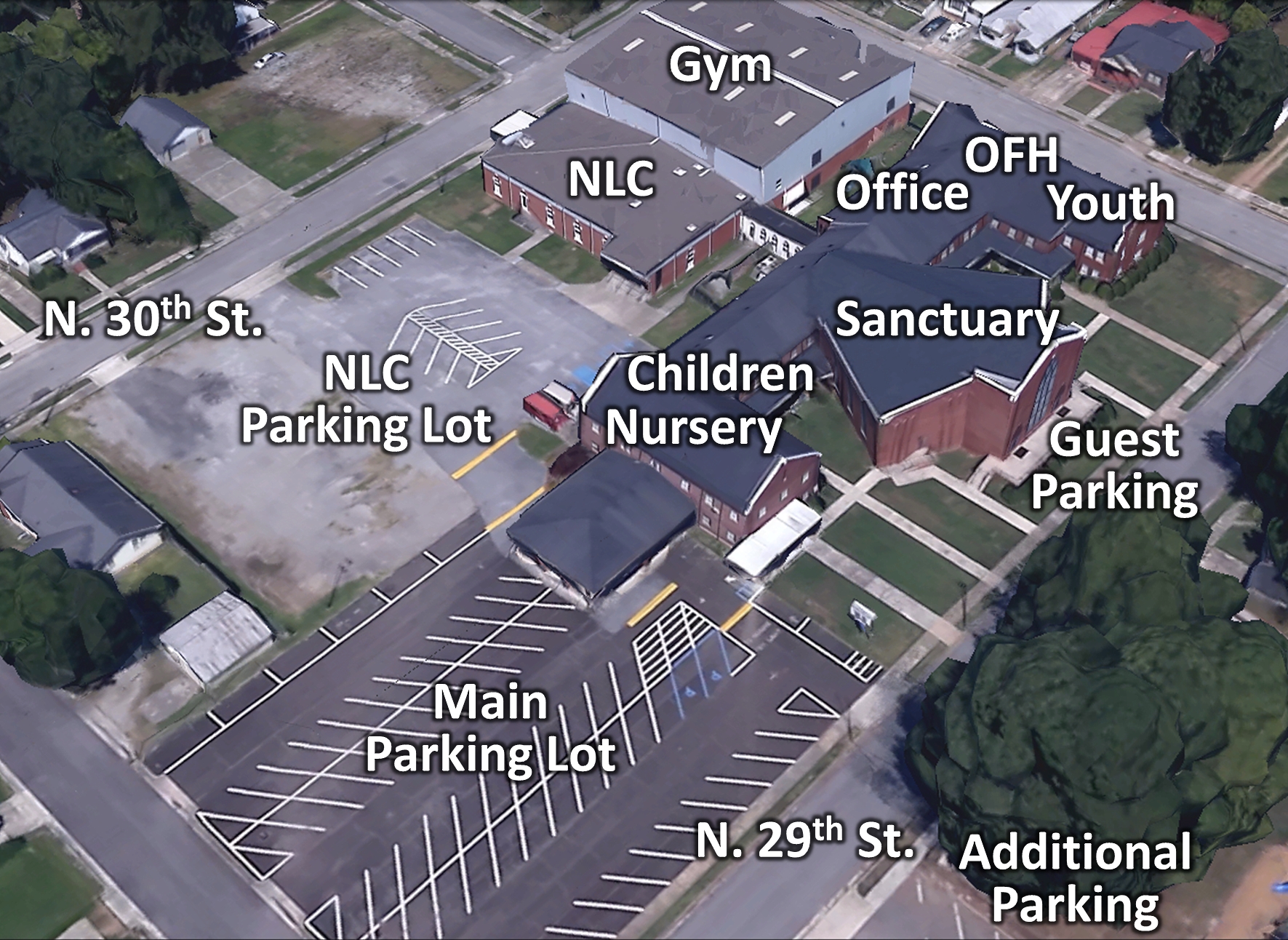 - The Sanctuary entrance is alongside N. 29th St. and also has designated guest parking. Its steps lead directly into the foyer of the sanctuary. If you are arriving close to service time then this is a great option for you. Ushers will be stationed here to welcome you.
- The Preschool entrance is enclosed and faces the main parking lot. It is excellent for families dropping little ones off in the nursery or their Sunday School class, as the children's department is also nearby. This entrance is guarded by security to ensure the safety of children.
- The New Life Center entrance is alongside N. 30th St. and is labeled "Welcome Center" above its doors. Coffee is available inside the New Life Center prior to Sunday School. To ensure safety, this entrance is locked shortly after Sunday School begins when greeters are no longer present.
---
Our bylaws cover the guidelines and structure in which we run our church. Even though it generally holds no critical information to the average guest or member, it is available online for any concerns or needs.
-> Click Here to View the DBC Bylaws <-
---
I. By public profession of faith in Jesus Christ as your personal Lord and Savior, and that you are seeking baptism.
II. By transfer of letter from another Southern Baptist Church or another Baptist church of like faith and doctrine, if you have already been baptized.
III. By statement of faith in Jesus Christ as your personal Lord and Savior, and that you have already been baptized.
We understand this may be a confusing process for some, especially those who have had no prior church experience. Bro. Keith or deacons are always available to help you through this process.
---
If you have any questions concerning our church or an event, please don't hesitate to call the church office at 256-546-2847.